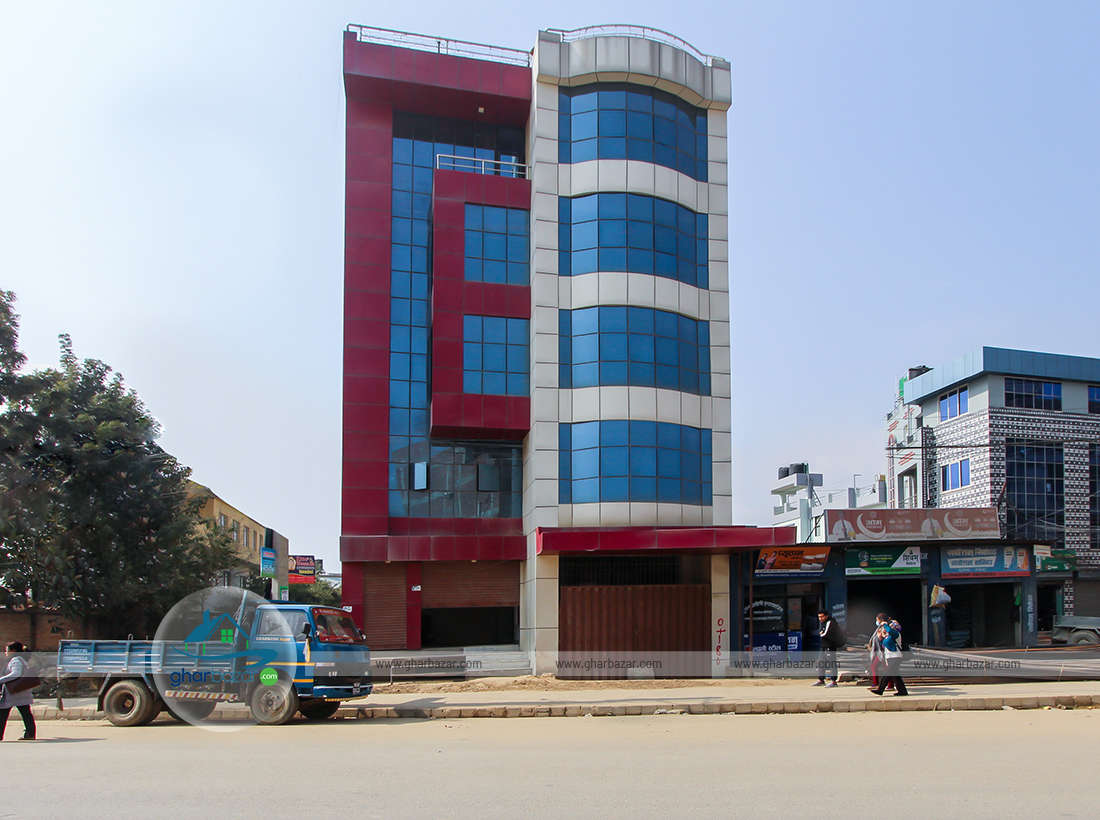 Office Space at Imadol
GB07765
Rs. 65,000 (Negotiable)

(Sixty five thousand per month)
Property Details
Built on: 2069 B.S.
Land area: 0-5-0-0
House area: n/a
Beds: -
Living: -
Kitchen: -
Bathrooms: 4
Overview
Office Space at Imadol
Location:
Imadol, Ward Office, Lalitpur, Nepal
This beautiful house situated at Imadol is available for rent. It has access to 22 meter (72 Feet) road facing towards South direction. The total area of this property is 5 anna and each floor consist of 1100 sq. ft. The area of underground parking is 1250 sq. ft. 4 anna of land is also available for parking at the backside of the property.

This property is nearby Ward Office-01. It has a facilities of electricity, water supply, internet and parking ( Underground parking also available ). It is suitable for commercial purposes.

Ground, 1st, 2nd and 3rd floor is available for rent. It is suitable for bank Cooperative, finance, Clinic INGO, NGO, etc. The rental price of this property is different according to the floor. The price for the ground floor is 65 thousand, 1st floor is 55 thousand, 2nd floor is 45 thousand and 3rd floor is 35 thousand.

Property Details
Area, Room & Floor Details
Land area: 0-5-0-0
House area: n/a
Flat area: 1100 Square feet
Parking area: n/a
beds: -
living: -
kitchen: -
Bathrooms: 4
Floors: 5
Other Details
FACED TOWARDS: East
CATEGORY: Office Space (Residential)
TYPE: Pillar System
CODE: GB07765
Update: 3 years ago
Views: 1869
Furnishing: Not Furnished
Accessibility
LOCATION: Imadol, Ward Office, Lalitpur, Nepal
Main road Distance:
ROAD DESCRIPTION: 22 meter ( 72 Feet)
ROAD TO HOUSE: Nearby Ward Office
Floor Details
Ground Floor: Rs. 65,000
Floor 1: Rs. 55,000
Floor 2: Rs. 45,000
Floor 3: Rs. 35,000
Facilities and Amenities
Electricity
Water Supply
Parking
Internet
Garbage Disposal
Drainage