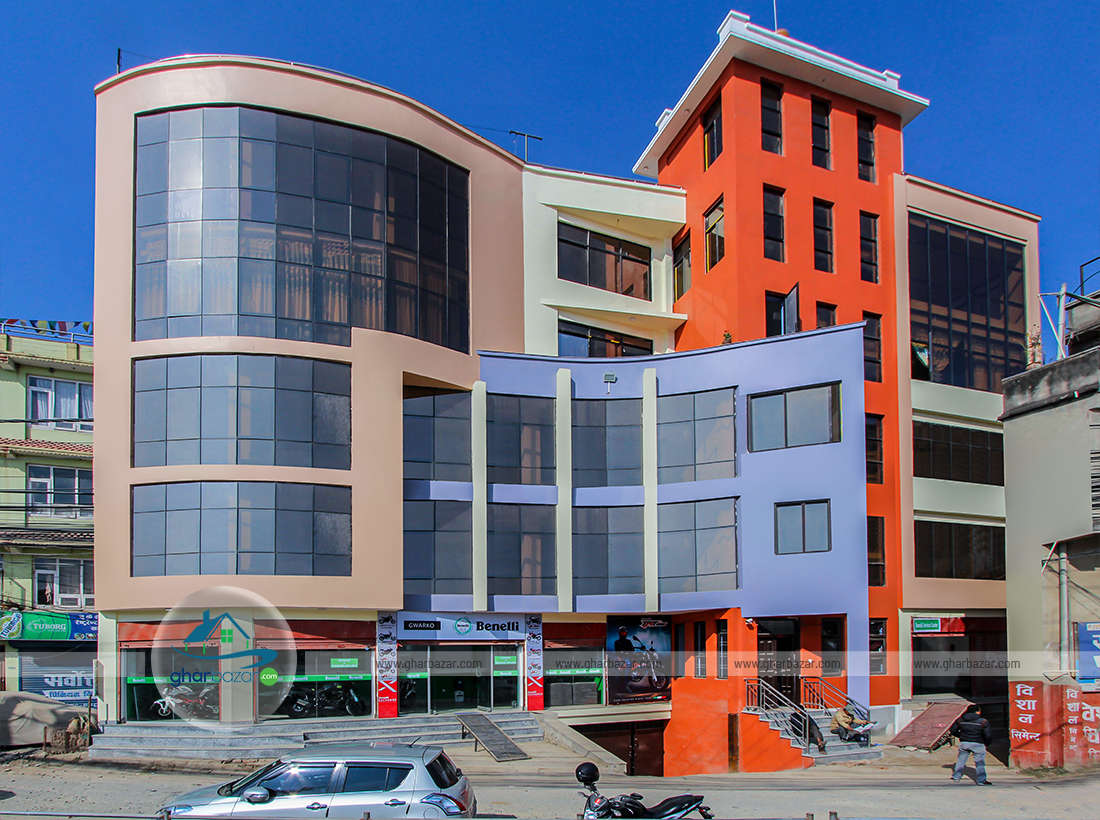 Office Space at Gwarkho
GB07671
Rs. 90 (Negotiable)

(Ninety rupees Per sq.ft)
Property Details
Built on: 2076 B.S.
Land area: 0-12-2-0
House area: n/a
Beds: -
Living: -
Kitchen: -
Bathrooms: 6
Overview
Office Space at Gwarkho
Location:
Gwarkho, Lalitpur, Nepal
This commercial building is located at Gwarkho Chowk. It has access to 8 lane access of Ring road. The building is 5.5
storied
catering different commercial functions,
abundant space for parking
in the basement. It is very
feasible, well maintained, glass facet commercial complex.
It has scientifically design with proper engineering structural considerations. 1st, 2nd and 3rd floor is available for rent, each floor is built in the area of 1400 sq. ft. and the total land area is 12 anna 2 paisa. It is suitable for
Bank, Insurance company, Shopping shops, Financial institution, Coffee shop/Tea shop, Fastfood/ Restaurant, Medical service oriented, INGO, NGO, Corporate office,
etc. Currently, ground floor is rented to
Bike showroom.

The property rent price,
1st floor: Rs. 90 per sq. feet,
2nd floor: Rs. 80 per sq. ft
and 3rd floor: Rs. 75 pe sq. ft
Property Details
Area, Room & Floor Details
Land area: 0-12-2-0
House area: n/a
Flat area: 1400 Square feet
Parking area: n/a
beds: -
living: -
kitchen: -
Bathrooms: 6
Floors: 5.5
Other Details
FACED TOWARDS: East
CATEGORY: Commercial Building (Residential)
TYPE: Pillar System
CODE: GB07671
Update: 3 years ago
Views: 3527
Furnishing: Not Furnished
Accessibility
LOCATION: Gwarkho, Lalitpur, Nepal
ROAD DESCRIPTION: 58 ft. Ringroad
ROAD TO HOUSE: n/a
Floor Details
Floor 1: Rs. 90 ( Rs.90 per sq.ft. )
Floor 2: Rs. 80 ( Rs.80 per sq.ft. )
Floor 3: Rs. 75 ( Rs.75 per sq.ft. )
Facilities and Amenities
Earthquake resistant
Parking
Reserve Tank
Water Supply
Telephone
Internet
Cable TV