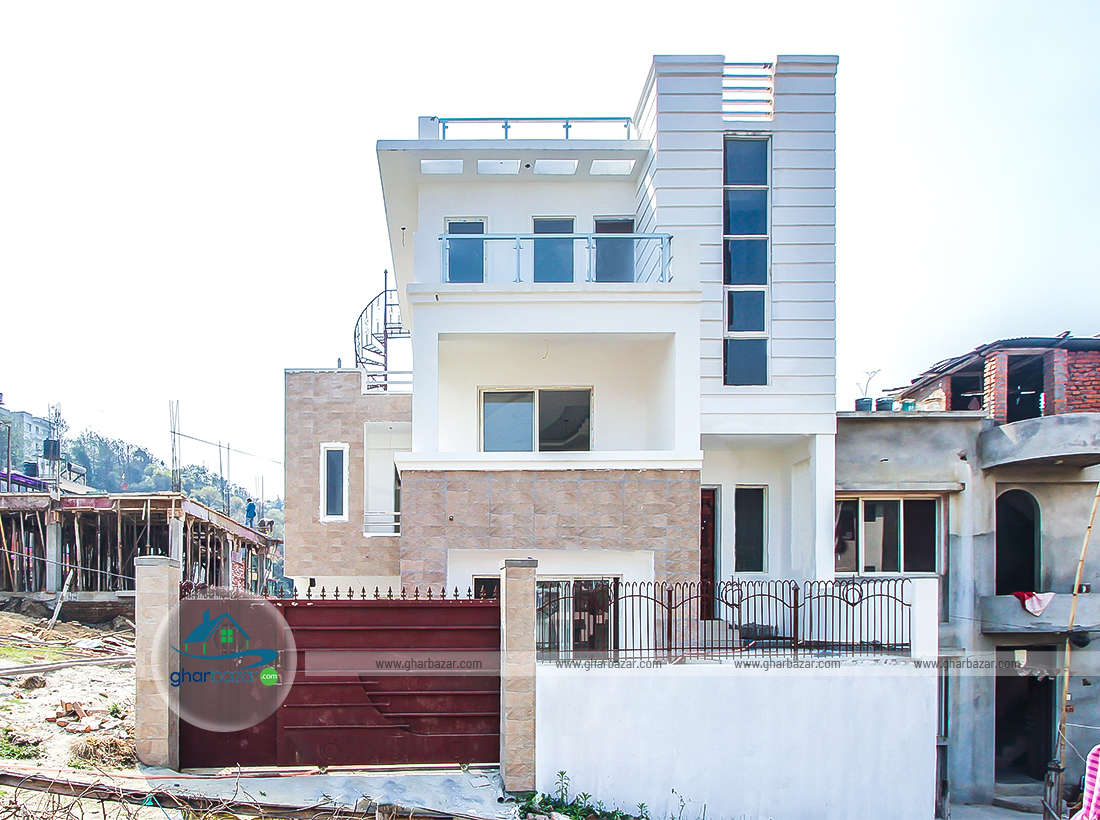 House at Sitapaila
GB06798
Rs. 2,15,00,000 (Negotiable)

(Two crore fifteen lakh )
Property Details
Built on: 2076 B.S.
Land area: 0-3-3-0
House area: 2250 Square feet
Beds: 4
Living: 2
Kitchen: 2
Bathrooms: 4
Key Features
Parryware Bathroom Fittings
Nitco Tiles
Krish ply door
False ceiling
Berger color
Living room Floor Parquetting
Modular Kitchen with Chimney
250 litre solar water
Overview
House at Sitapaila
Location:
Sitapaila, Kathmandu, Nepal
This newly built house is located at Sitapaila, Kathmandu. It is in a distance of 100m from Sitapaila, Ramkot highway. It has 13 ft/16 ft road access on 2 sides.
This is a 2.5 storied house built in the area of 3 aana 3 paisa. It is a flat system house with two different entrance and has a large parking space that can hold up to 1 car and 3 bikes at a time. It faces towars East direction and has 4 bedrooms, 4 bathrooms, 2 kitchens, 2 living rooms, 1 store room and 1 puja room. It has reserve tank and has drainage and water supply facility.
The selling price for this property is 2 crore 15 lakh.
Property Details
Area, Room & Floor Details
Land area: 0-3-3-0
House area: 2250 Square feet
Flat area: n/a
Parking area: n/a
beds: 4
living: 2
kitchen: 2
Bathrooms: 4
Floors: 2.5
Other Details
FACED TOWARDS: East
CATEGORY: House (Residential)
TYPE: Pillar System
CODE: GB06798
Update: 2 years ago
Views: 22902
Furnishing: Semi Furnished
Accessibility
LOCATION: Sitapaila, Kathmandu, Nepal
Main road Distance: 100m
ROAD DESCRIPTION: 13ft /16ft
ROAD TO HOUSE: n/a
Facilities and Amenities
Electricity
Water Supply
Solar Water
Parking
Internet
Peaceful environment
Rental Income
Telephone