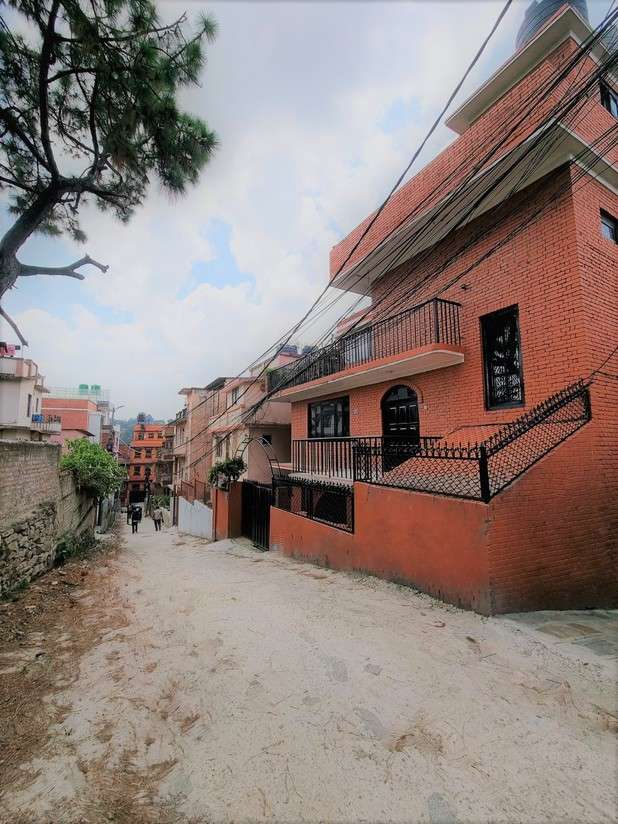 House at Mitrapark
GB08996
Rs. 3,85,00,000 (Negotiable)

(Three crore eighty five lakh )
Expiry date: 2021-09-12 (in 38 days)
Contact Information
Ayush Acharya
ayushacharyanepal@gmail.com
Property Details
Land area: 0-4-0-0
House area: 3100 Square feet
Beds: 5
Living: 1
Kitchen: 2
Bathrooms: -
Overview
House at Mitrapark
Location:
Mitrapark, Kathmandu, Nepal
DETAILS OF THE PROPERTY -Well planned and maintained residential property located in the heart of Kathmandu Valley. The house is 50 meters from ring road and is located in a residential area with peaceful neighborhood. 18 feet road access to the ring road. The Pashupati Nath Temple is 3 minutes walking distance from the residence. -Full Address: Dakshinamurti Marg, Jayabahageshwori, Kathmandu-8, Bagmati Province, Nepal. -The house is ready to move in with all necessary contemporary equipment in place. -The entire house is planned as per Vaastu Sastra. -Adjoining to Nepal Bharat Maitri Hospital in Pashupati Area. -Full view of Pashupati Area (including Bankaali forest), Boudha Area, Shivapuri Conservation Reserve and the Airport side of Kathmandu Valley from the roof. -Melamchi water line connected and in smooth operation. Hot water solar facility available in all restrooms and kitchen. -Earthquake resistant measures in place. -Equipped with electronic lock system for the main entrance. -Land: 4 Aana (Fully Rahikar) -Total House Area: 3100 sq ft -Level (Talla): 3 + 1 room on roof -Parking: Available within the property for Car/Jeep/ Bike). Additional 3 ropani parking space facility provided by the adjoining hospital.   Indoor Infrastructure: 5 x Spacious Sunlight access Bedrooms (3 rooms are Air Conditioned & 2 rooms are not Air Conditioned) 1 x Air-Conditioned fully furnished spacious Living Room 1 x Puja room 1 x Cozy and 1 x Large Kitchen with easy to clean marble countertops. 1 x Rooftop Battery room with additional storage space. 3 x Extra Storage Rooms. 5 x Bathrooms (2 attached, 2 common and 1 outdoor) Storage Area: 3 Inner and 1 outer stores for house supplies. Furnishing: Fully furnished marble floor house. All rooms are fully furnished with carpets, curtains and furniture (luxurious sofas, closets, beds, etc.). Electrical Provisions: The house is backed up with Inverter facility connected with four sets of solar charging panels and station. Provisions for water supplies: Access to recently upgraded Melamchi Water Supply Line. Underwater Tank: 9000 Liters Rooftop Tank: 2000 Liters Spare Tank: 1000 + 500 Liters Property Documents: Lalpurja Land Blueprint / Drawing House drawing and approval certificate Construction completion certificate / document issued by Kathmandu Metropolitan Office for the entire existing structure with provisions for additional rooms. Tax Clearance CONTACT PERSON: Ayush Acharya +977 9851206246
Property Details
Area, Room & Floor Details
Land area: 0-4-0-0
House area: 3100 Square feet
Flat area: n/a
Parking area: n/a
beds: 5
living: 1
kitchen: 2
Bathrooms: -
Floors: 3
Other Details
FACED TOWARDS: North
CATEGORY: House (Residential)
TYPE: Pillar System
CODE: GB08996
Update: 1 month ago
Views: 173
Furnishing: Fully Furnished
Accessibility
LOCATION: Mitrapark, Kathmandu, Nepal
ROAD DESCRIPTION: 50 meters
ROAD TO HOUSE: Adjoining to Nepal Bharat Maitri Hospital which is only 50 meters from ring road.
Facilities and Amenities
Solar Water
Cable TV
Electricity
Water Supply
Parking
Garbage Disposal
Telephone
Internet
Drainage
Peaceful environment
Earthquake resistant
Reserve Tank