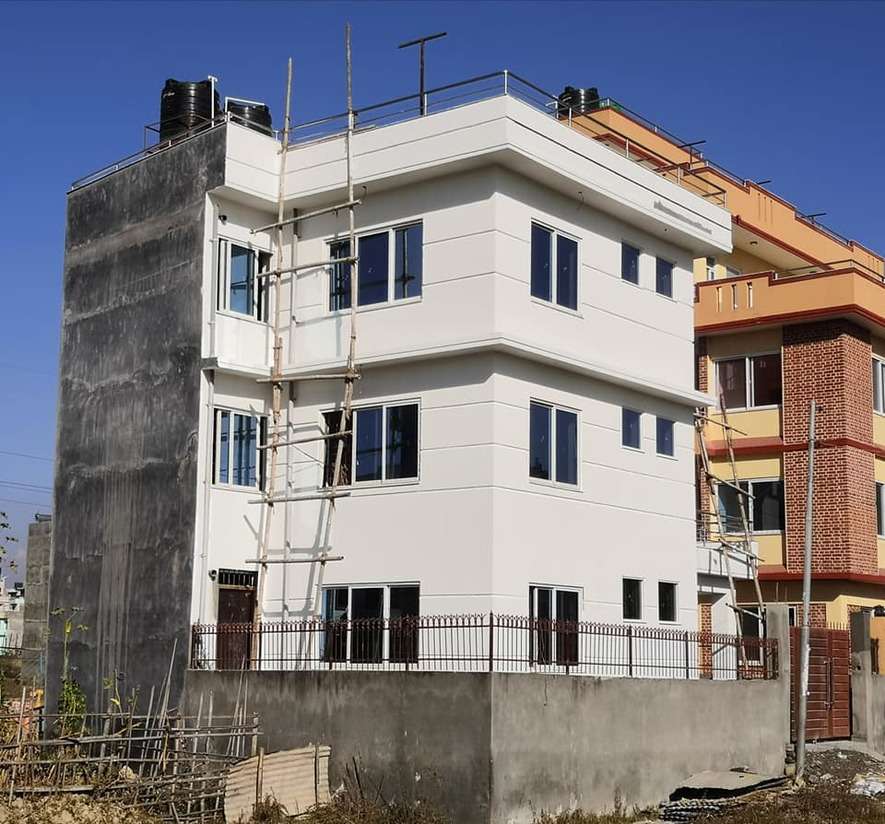 House at Gwarko Bafal, Lalitpur
GB08570
Rs. 3,00,00,000 (Negotiable)

(Three crore )
Expiry date: 2021-03-01 (in 42 days)
Contact Information
Naresh Maharjan
nareshmah@yahoo.com
Property Details
Built on: 2077 B.S.
Land area: 0-4-2-0
House area: 2505 Square feet
Beds: 5
Living: 1
Kitchen: 2
Bathrooms: -
Overview
House at Gwarko Bafal, Lalitpur
Location:
Gwarko Bafal, Lalitpur, Kathmandu, Nepal
House Description :
Bedroom-5, Bathroom-4(Attach-1), Kitchen & Dining-2, Family room-1, Car Parking-1, Bike-3,4, Pooja Space, Washing Space, Modular Kitchen, TV rack in Family, Fully False Ceiling, Stair Wooden Plank & Hukka Handle, Laminate Parquet, South Face,
Road Access 13 feet.
Total House Floor Covered Area 2505 sqft. Terrace-3 laying tile, Parapet wall top laying white marble, All Doors & Windows are framing with wooden plank, Aluminium Window, Steel Railing, Shoe Rack & Store, 2-Tank with Stand & Solar Heater.
Property Details
Area, Room & Floor Details
Land area: 0-4-2-0
House area: 2505 Square feet
Flat area: n/a
Parking area: n/a
beds: 5
living: 1
kitchen: 2
Bathrooms: -
Floors: 2.5
Other Details
FACED TOWARDS: South
CATEGORY: House (Residential)
TYPE: Pillar System
CODE: GB08570
Update: 1 month ago
Views: 152
Accessibility
LOCATION: Gwarko Bafal, Lalitpur, Kathmandu, Nepal
ROAD DESCRIPTION: 10
ROAD TO HOUSE: 13 feet
Facilities and Amenities
Solar Water
Electricity
Parking
Internet
Well
Peaceful environment
Reserve Tank
Rental Income