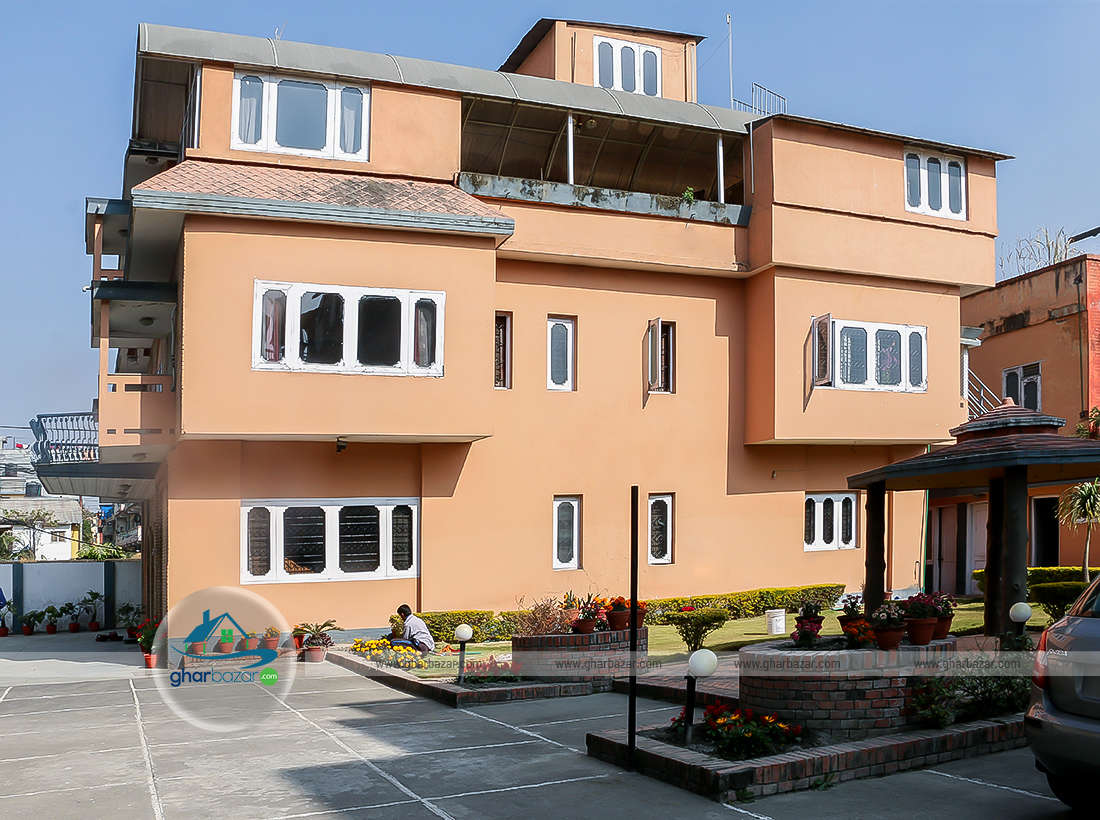 Commercial Property at Kupondole
GB06854
Rs. 5,00,000 (Negotiable)

(Five lakh per month)
Property Details
Land area: 2-0-0-0
House area: n/a
Beds: 6
Living: 2
Kitchen: 1
Bathrooms: 6
Key Features
- 6BHK
- Parquetted and marbled flooring
- Huge garden with pond and fountain
- Parking space for 10 cars and 30 bikes
- Sauna and steam rooms
- Mini gym area
Overview
Commercial Property at Kupondole
Location:
Gusingal, Kupondole, Lalitpur, Nepal
This three-story property with 6000 square feet is located in Kupondole, Lalitpur. This property is suitable for
NGOs, INGOs, corporate offices or embassy peoples
. This property faces towards South-West and has 20 feet road access. It is 200 meter from main road leading to Thapathali.
The building has 7 rooms, 2 conference halls, and plenty of open space.Parking space for 10 cars and 50+ bikes. Canteen area for staff. Tons of open space. The building can be customized / renovated according to your business requirement and needs. Perfect property for large banks or offices.
The rental price for this property is 5 lakh per month (high preference to expatriate).Contact us for more details. needs.
Property Details
Area, Room & Floor Details
Land area: 2-0-0-0
House area: n/a
Flat area: n/a
Parking area: n/a
beds: 6
living: 2
kitchen: 1
Bathrooms: 6
Floors: 3
Other Details
FACED TOWARDS: South-west
CATEGORY: House (Commercial/Residential)
TYPE: Pillar System
CODE: GB06854
Update: 2 years ago
Views: 3076
Furnishing: Semi Furnished
Accessibility
LOCATION: Gusingal, Kupondole, Lalitpur, Nepal
Main road Distance: 200m
ROAD DESCRIPTION: 20 feet
ROAD TO HOUSE: n/a
Facilities and Amenities
Electricity
Parking
Water Supply
Garbage Disposal
Garden
Reserve Tank
Earthquake resistant
Internet
Telephone
Solar Water