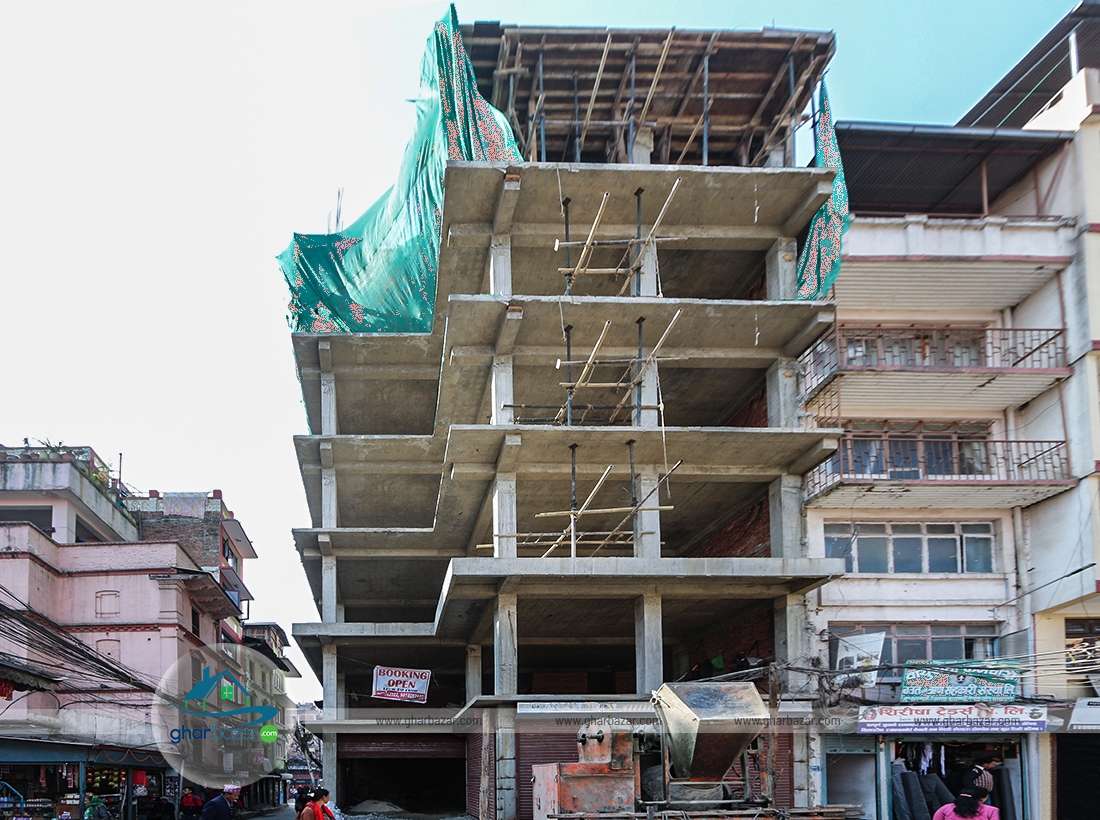 Commercial Building at New Road
GB06486
Rs. 5,00,000 (Negotiable)

(Five lakh per month)
Property Details
Built on: 2075 B.S.
Land area: 0-2-1-0
House area: 750 Sq. Ft.
Beds: -
Living: -
Kitchen: -
Bathrooms: -
Key Features
- 1st and 6th flats are 350 sq ft each
Overview
Commercial Building at New Road
Location:
Way to Sankata Temple, New Road, Kathmandu, Nepal
This newly built, 6.5 storied building located at the prime location of New Road. It is built in the area of 2 aana 1 paisa and situated on the way to Sankata Mandir. This property is very suitable for running offices like Banks, Finances, Retail Shops, Consultancies etc. The rent price is 5 lakh per month for this property excluding the ground floor and first half of the 1st floor. It can also be given on as per flat.
Note: Any inquiries regarding Restaurants and Lodges will not be entertained.
Property Details
Area, Room & Floor Details
Land area: 0-2-1-0
House area: 750 Sq. Ft.
Flat area: n/a
Parking area: n/a
beds: -
living: -
kitchen: -
Bathrooms: -
Floors: 6.5
Other Details
FACED TOWARDS: None
CATEGORY: Commercial Building (Residential)
TYPE: Pillar System
CODE: GB06486
Update: 10 months ago
Views: 876
Accessibility
LOCATION: Way to Sankata Temple, New Road, Kathmandu, Nepal
ROAD DESCRIPTION: -
ROAD TO HOUSE: n/a
Floor Details
Floor 1: Rs. 60,000 ( Sixty thousand per month for 325 sq. ft. )
Floor 2: Rs. 1,20,000 ( One lakh twenty thousand per month )
Floor 3: Rs. 1,00,000 ( One lakh per month )
Floor 4: Rs. 90,000 ( Ninety thousand per month )
Floor 5: Rs. 70,000 ( Seventy thousand per month )
Floor 6: Rs. 60,000 ( Sixty thousand per month )
Facilities and Amenities
Electricity
Rental Income