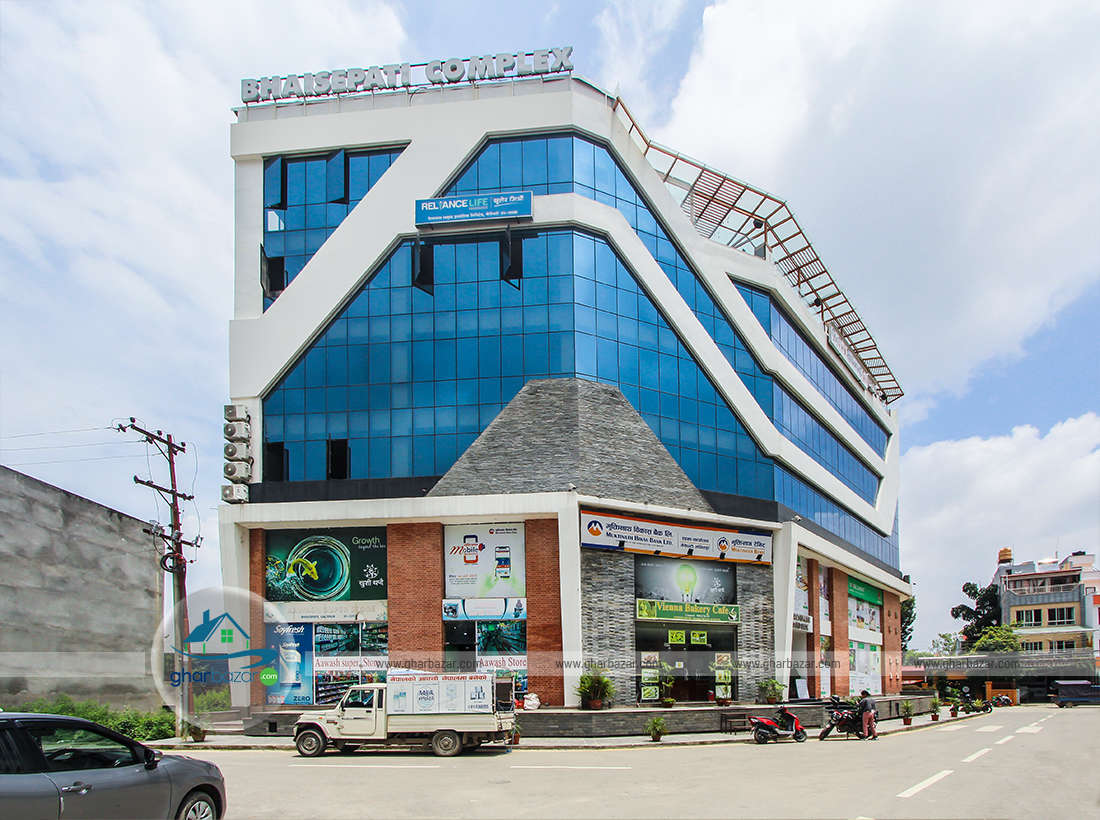 Commercial Building at Bhaisepati Awash
GB09024
Rs. 100 (Negotiable)

(One hundred per square feet )
Property Details
Land area: 4000 Square feet
House area: n/a
Beds: -
Living: -
Kitchen: -
Bathrooms: -
Key Features
Elevator
Generator Backup
Parking
Guard
Atm Counters
Water Supply
Toilet at every floor
Lobby 800 sq (open space)
Under Ground


Overview
Commercial Building at Bhaisepati Awash
Location:
This impressive and well equipped 5 storied Bhaisipati Complex is now open for renting its commercial space.
Available Space:
2
nd
Floor : 3200 square feet
3
rd
Floor : 3200 square feet
4
th
Floor : 1560 square feet
Total Space: 7960 Square feet
Having located at suburb location as Bhaisipati Awash, Lalitpur, it has already attracted good cooperate offices like Nabil Bank, Muktinath Bikash Bank and many more.
The complex is just 2 kilometers from Ring Road.
The perks of well engineered building, AC, security guards, separate quarter for guards/ servants, elevator, enough parking space, generator backup, ATM Counters, toilet at every floor, lobby having 800 sq feet (open space) definitely makes this space spacious and attractive. This property is suitable for
Banks, NGOs, INGOs, Insurance Companies, Corporate Offices, IT Companies etc.
The rent amount of the property Rs. 100 per square feet.
Property Details
Area, Room & Floor Details
Land area: 4000 Square feet
House area: n/a
Flat area: 3200 Square feet
Parking area: n/a
beds: -
living: -
kitchen: -
Bathrooms: -
Floors: 5
Other Details
FACED TOWARDS: East
CATEGORY: Commercial Building (Residential)
TYPE: Pillar System
CODE: GB09024
Update: 3 months ago
Views: 2449
Furnishing: Not Furnished
Accessibility
LOCATION:
Main road Distance: 20m
ROAD DESCRIPTION: 16 ft
ROAD TO HOUSE: 20
Facilities and Amenities
Electricity
Water Supply
Solar Water
Parking
Internet
Telephone
Peaceful environment
Drainage
Cable TV