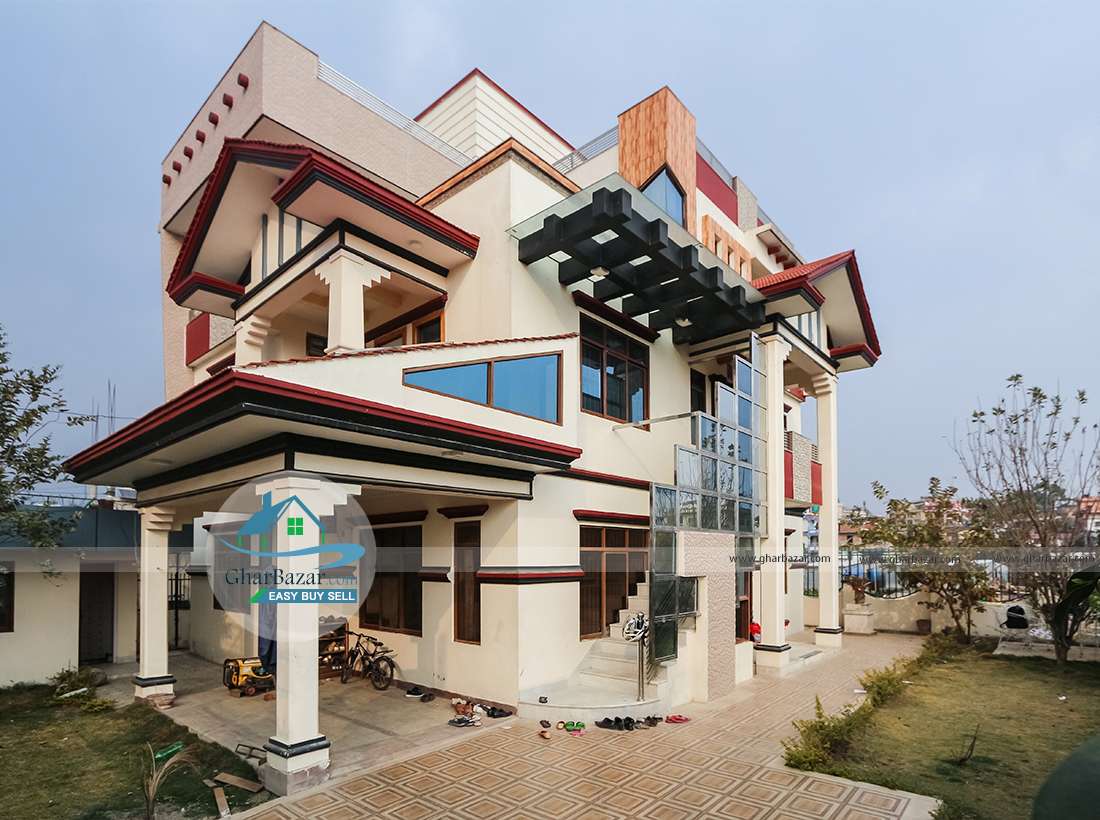 Bungalow at Kapan Height
GB05745
Rs. 5,25,00,000 (Negotiable)

(Five crore twenty five lakh )
Property Details
Land area: 0-9-0-0
House area: n/a
Beds: 5
Living: 2
Kitchen: 2
Bathrooms: 5
Overview
Bungalow at Kapan Height
Location:
Kapan, Kathmandu, Nepal
This earthquake resistant, fully furnished 2.5 storied bungalow is located at Kapan Height, Aakasedhara, Kathmandu. It is 100 meter from road and 2.5 km from ring road, Dhumbarahi Chowk. It has 20 feet access. This property is built in 9 aana land. The property has following features:
1. Automatic op enable video compound main entrance gate.
2. Driver's quarter with outdoor toilet.
3. Garden with six persons out door sitting.
Ground floor
# It can be used for office or different family set.
# Living room with AC.
# Kitchen and dining with full furnished.
# Master bedroom.
# Guest room.
# Kitchen store.
# Toilet with bathtub.
First floor

#
All wall is covered by acrylic plastic & pine wood.
# Grand full furnished passage leading to bed & upstairs.
# Suit room with full furnished (master bed with small kitchen & living area).
# Attached toilet (steam bath, Jacuzzi, automate sensor commode of male & female washe with drier, ceiling rain shower & automatic wash basins)
# Children bed room with full furnished of bed & wardrobe- 2 nos.
# Pooja room with full furnished marble SINGHASAN attached small bed room.
# Common Toilet -1 no.
Second floor
# Living room with full furnished, 55" LED 4K 3D smart TV including wardrobe & ceiling sound system in living & dining area, with Sony 4000 watt sound system & AC.
# Kitchen & Dining with full furnished with automatic wash basins, fix automatic stove & grilled micro oven.
# Outdoor sitting with covered glass roof and store.
# Gym hall with full furnished 18 station gym, electric AC motor treadmill with aerobic ceiling sound system.

The selling price of this fully furnished house is 5 crore 25 lakh with all the furniture and materials.
Property Details
Area, Room & Floor Details
Land area: 0-9-0-0
House area: n/a
Flat area: n/a
Parking area: n/a
beds: 5
living: 2
kitchen: 2
Bathrooms: 5
Floors: 2.5
Other Details
FACED TOWARDS: South-east
CATEGORY: Bungalow (Residential)
TYPE: Pillar System
CODE: GB05745
Update: 3 years ago
Views: 6073
Furnishing: Fully Furnished
Accessibility
LOCATION: Kapan, Kathmandu, Nepal
Main road Distance: 100m
ROAD DESCRIPTION: 6 meter
ROAD TO HOUSE: 100
Facilities and Amenities
Electricity
Parking
Garden
Drainage
Earthquake resistant
Reserve Tank
Cable TV
Garbage Disposal