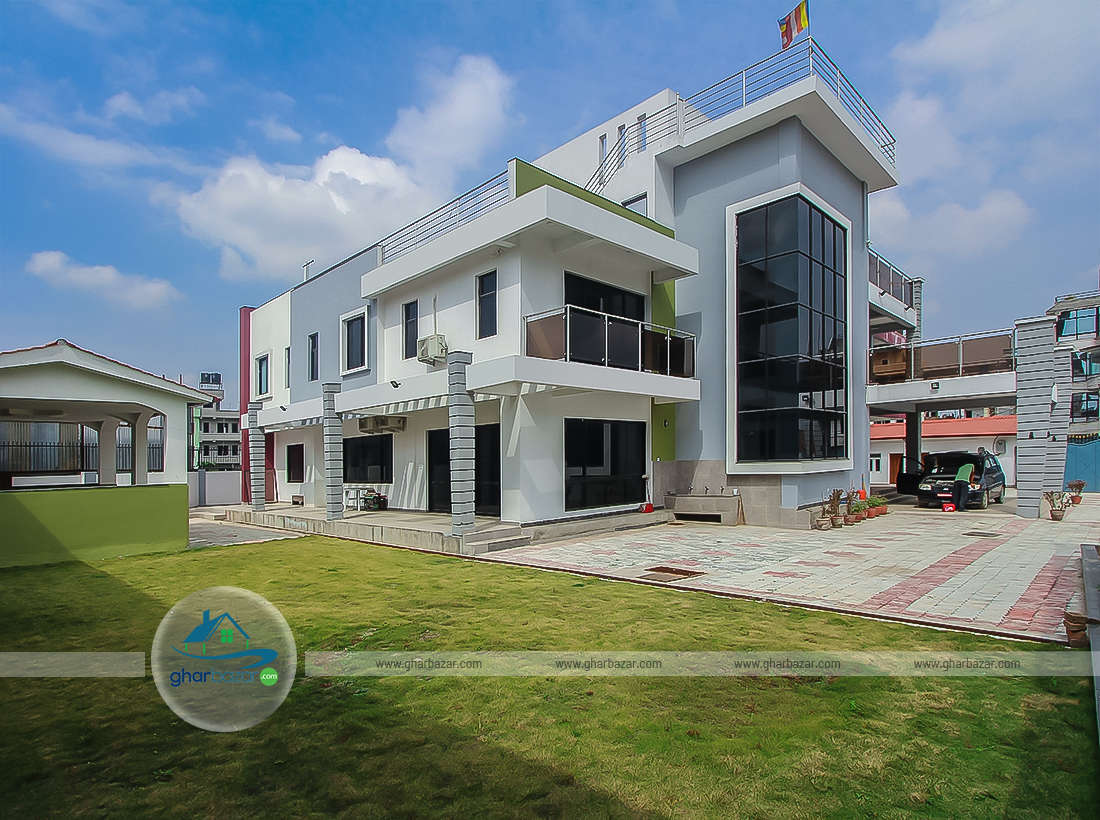 Bungalow at Imadol
GB07435
Rs. 3,00,000 / month (Negotiable)

(Three lakh per month)
Property Details
Built on: 2075 B.S.
Land area: 16500 Sq. Ft.
House area: 10 Sq. Ft.
Beds: 5
Living: 1
Kitchen: 1
Bathrooms: 5
Key Features
• 24/7 security and CCTV system
• Electric and Solar for Hot Water
• Spacious Playground
• 24 hrs Electricity Backup
• Complete Modular Kitchen
• Complete Bathroom Fitting
• Water Pressure System
• Secure Parking for Vehicle Entry.
• 15 car parking and 30 bike parking
• Earthquake resisting RCC frame structure
• Balcony for every room including family lounge
• Secure and guarded entry Plenty of Parking Area
Overview
Bungalow at Imadol
Location:
Ochu height, Imadol, Lalitpur, Nepal
This earthquake resistant, fully furnished 2.5 storied bungalow is located at Imadol Height, Lalitpur. It is 500 meter from Imadol-Lubhu highway. It has 14 feet road access. This property has land area of 16500 sq ft and the house is built in the area of 10000 sq.ft. It has 5 bedrooms with attached bathroom with individual Air-condition, 1 living room with fireplace, 1 family lounge, 3 terraces,1 meeting room,1 puja room, 1 store room, 1 kitchen with stone Bench top, 2 gas stoves, 1 kitchen store room, 1 guard house, 1 mandir, 1 barbecue station and a garden.
The renting price for this property is Rs. 3 lakh per month.
Property Details
Area, Room & Floor Details
Land area: 16500 Sq. Ft.
House area: 10 Sq. Ft.
Flat area: n/a
Parking area: n/a
beds: 5
living: 1
kitchen: 1
Bathrooms: 5
Floors: 2.5
Other Details
FACED TOWARDS: North-east
CATEGORY: Bungalow (Residential)
TYPE: Pillar System
CODE: GB07435
Update: 3 months ago
Views: 2383
Accessibility
LOCATION: Ochu height, Imadol, Lalitpur, Nepal
Main road Distance: 1000m
ROAD DESCRIPTION: 14 Feet
ROAD TO HOUSE: n/a
Facilities and Amenities
Earthquake resistant
Water Supply
Solar Water
Garden
Drainage
Internet