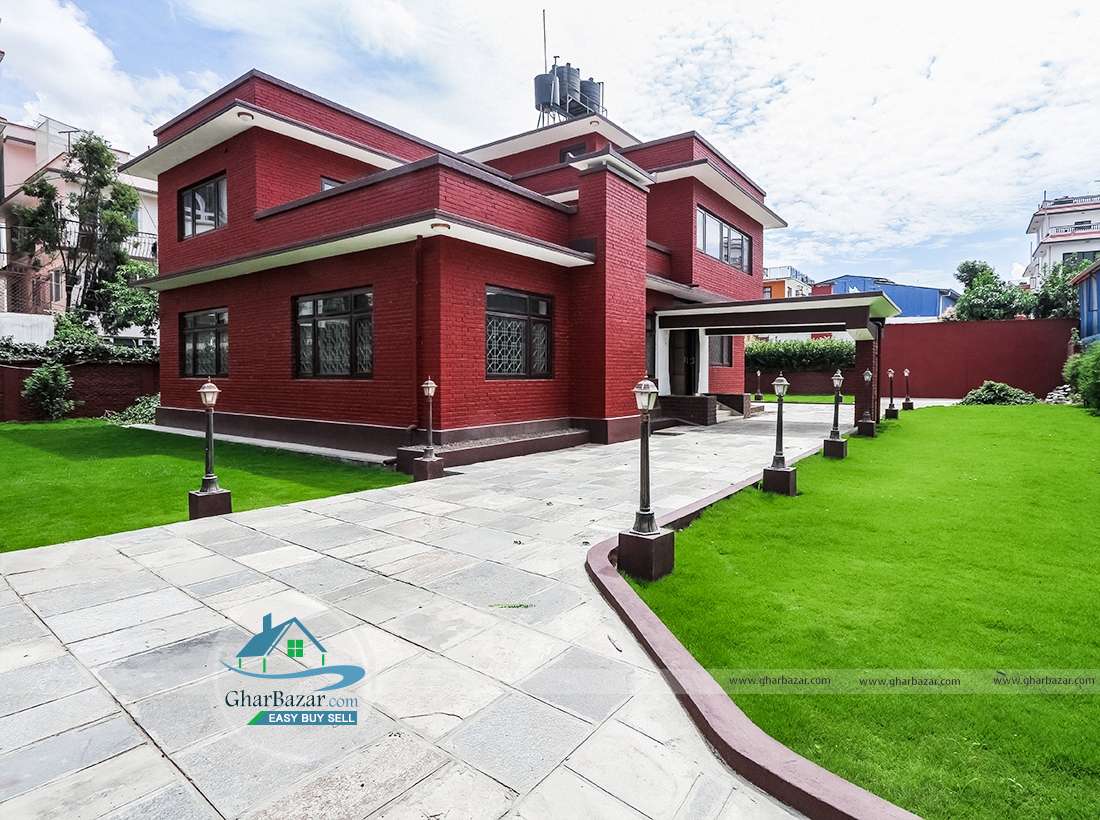 Bungalow at Dillibazar
GB05544
Rs. 3,00,000 (Negotiable)

(3 lakh per month)
Property Details
Land area: 0-24-0-0
House area: n/a
Beds: 6
Living: 1
Kitchen: 1
Bathrooms: 4
Overview
Bungalow at Dillibazar
Location:
Dillibazar, Kathmandu, Nepal
This south-west facing Bungalow is centrally located, well-designed and constructed with garden in residential area at Dillibazar, Kathmandu. It is 10 minutes by car or taxi to the American club, CIWEC Clinic, Durbar Marg, Babarnahal, New Road, Bhat Bhateni Supermarket and Tribhuvan Airport. It is 200 meter from main road leading to Kamalpokhari and has 20 feet access.
In the ground floor it has spacious living dining area with wood parquet floors and fire place, large kitchen with built in cupboards and ample counter space, office/guest room with built in closet and adjacent bathroom, storage room/pantry with built-in shelving.
In the first floor it has master bedroom with built-in closets, wood parquet floors, attached bath and sheltered terrace, large bedroom with built-in closet and wood parquet floors, smaller guest room with wood parquet floors and adjacent bathroom.
Other it has rooftop office/storage room and terrace with mountain views, reliable year-round water supply, tree-lined garden, garage, servant quarters with attached toilet, guard house and high quality furnishing and appliances available for purchase from tenant.
The property rent price is 3 lakh per month, highly preference to expatriate.
Property Details
Area, Room & Floor Details
Land area: 0-24-0-0
House area: n/a
Flat area: n/a
Parking area: n/a
beds: 6
living: 1
kitchen: 1
Bathrooms: 4
Floors: 2
Other Details
FACED TOWARDS: South-west
CATEGORY: Bungalow (Commercial/Residential)
TYPE: Pillar System
CODE: GB05544
Update: 5 months ago
Views: 1648
Accessibility
LOCATION: Dillibazar, Kathmandu, Nepal
Main road Distance: 200m
ROAD DESCRIPTION: 20 ft
ROAD TO HOUSE: 200
Facilities and Amenities
Electricity
Solar Water
Cable TV
Parking
Garbage Disposal
Telephone
Internet
Well
Garden
Drainage
Earthquake resistant
Reserve Tank