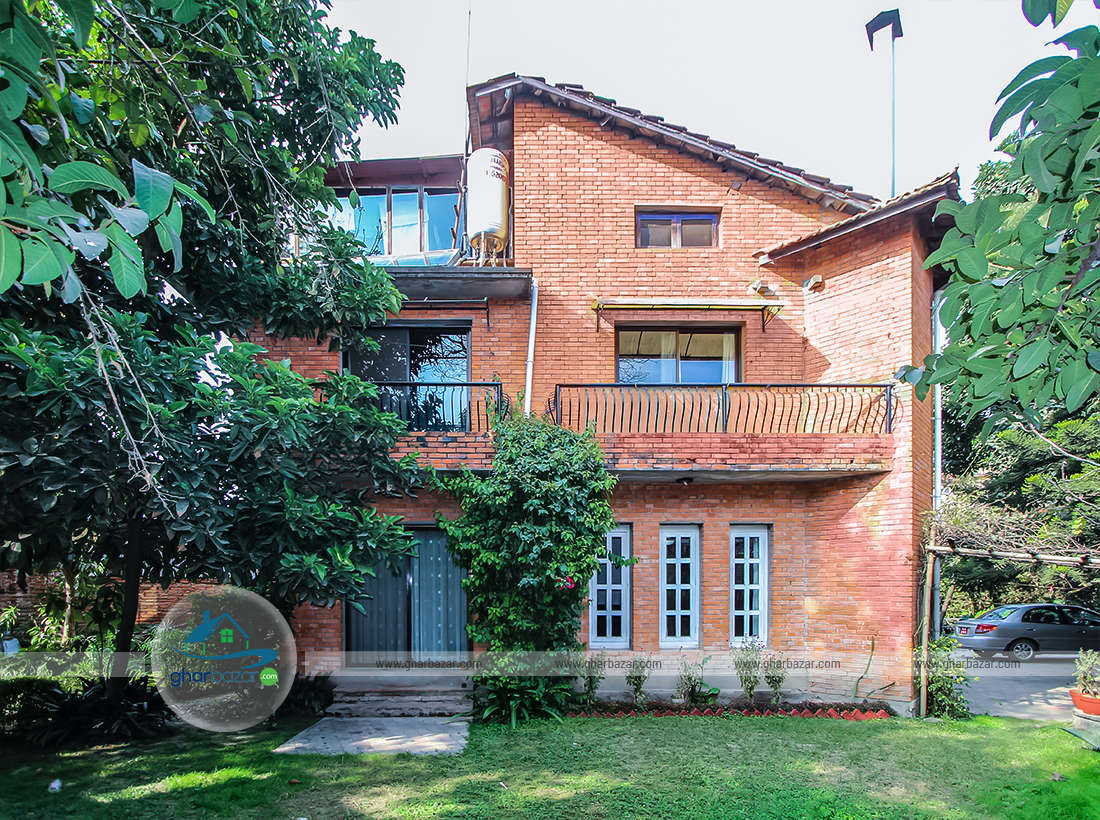 Bungalow at Dhobighat
GB07504
Rs. 10,00,00,000 (Negotiable)

(Ten crore )
Property Details
Land area: 1-4-0-0
House area: n/a
Beds: 4
Living: 1
Kitchen: 1
Bathrooms: 2
Key Features
1. Designed by American Architect.
2. Tie beam with wall system construction with "Earthquake Resistant Certification for SNV".
3. Chinese brick exterior and full wood paneling interior (Southern Pine from USA) with built-in wardrobes and ample storage areas in the attic.
4. Upgraded modular kitchen with granite tops.
5. Own underground water source with automatic water filtration system.
6. Two water supply line (Government and Melamchi water line) connected
7. Covered with fruit trees and manicured garden.
8. Separate Servant Room with kitchen and Toilet

Overview
Bungalow at Dhobighat
Location:
Dhungedhara, Dhobighat, Lalitpur, Nepal
This is a 2.5 storied house located at a peaceful residential location of Dhobighat, Lalitpur. It is in a distance of 300 meters from mainroad and has access to 16 feet black topped road. It is easily accessible from ring road. This property has a beautiful view of mountain range and has a eco friendly environment. It has total area of 20 aana.
This property contains 3 bedrooms and 1 attic bedroom, 2 bathrooms, 1 living room with working fire place, 1 kitchen, 1 dining room and a spacious parking area that can accommodate upto 9 cars.
Property Details
Area, Room & Floor Details
Land area: 1-4-0-0
House area: n/a
Flat area: n/a
Parking area: n/a
beds: 4
living: 1
kitchen: 1
Bathrooms: 2
Floors: 2.5
Other Details
FACED TOWARDS: East
CATEGORY: Bungalow (Residential)
TYPE: Pillar System
CODE: GB07504
Update: 2 years ago
Views: 13048
Furnishing: Not Furnished
Accessibility
LOCATION: Dhungedhara, Dhobighat, Lalitpur, Nepal
Main road Distance: 300m
ROAD DESCRIPTION: 16 ft
ROAD TO HOUSE: n/a